missionary biographies


Gravestone Plate for Solomon L. Ginsburg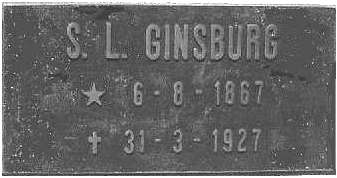 Photograph courtesy of Anna Hanson (Solomon was her great grandfather) who received it from Mr. Ary Santos of São Paulo, Brazil. The following notes by Mr. Santos accompanied the photograph:
"The star means the birth date (dd/mm/yy), and the cross means the death date. However, ...this plate is incorrect, as the death occurred at hour 00:15 (or fifteen minutes past midnight) on day first of April...according to the cemetery register, Solomon died at 00:15 (15 minutes) of April 1st 1927...he died at the age of 59 years old, and was living at Joao Ramalho St. in São Paulo..."
>> More Solomon Ginsburg
---