Grave of George C. Stebbins


George Stebbins (1846-1945) was an American Gospel hymn writer who composed the music for such familiar hymns as "There Is a Green Hill Far Away," "Ye Must Be Born Again," "Take Time To Be Holy," "Have Thine Own Way, Lord!" and "Saved by Grace."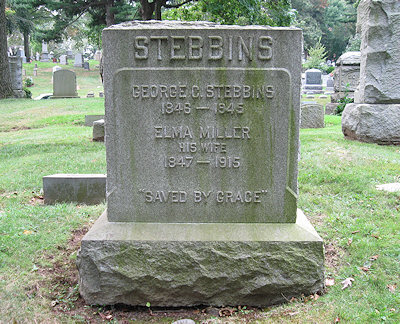 George C. Stebbins, 1848-1945
Elma Miller, His Wife, 1847-1915
"Saved By Grace"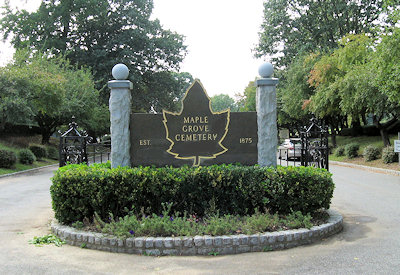 Main Gate, Maple Grove Cemetery, Est. 1875.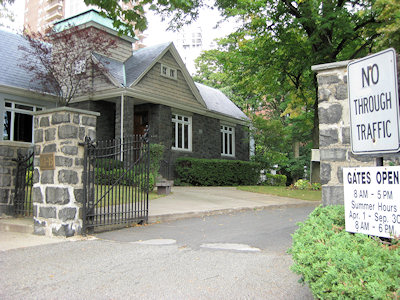 Kew Garden Rd. gate to Maple Grove Cemetery for Prospect 2 section
Maple Grove Cemetery
127-15 Kew Gardens Road
Kew Gardens, Long Island, New York, U.S.A.
Phone: 718-544-3600
Email: info@maplegrovecenter.org
Web: http://www.maplegrove.biz/
Directions to Cemetery:
See Cemetery Website.
Directions to Stebbins grave:
Section: Prospect 2 - Monumental Area
Lot: 205 B
Stop at The Center for map and directions or Email Cemetery prior to visit.
Note:
Stebbins grave is located in the 4th row of Lots from the road. Monuments near Stebbins include Hunter and Briggs (with angel on top). Charles F. Young is to right of Stebbins and Rev. John Currie is to left. The inscriptions on the monuments for Currie, Stebbins, and Young face away from road.
Photographs by Stephen & Dorothy Ross for WholesomeWords.org 2013.
>> More George Stebbins
---